Category: Video
September 11th really does need to hurry the hell up!

September 11th needs to hurry the hell up!

You can check out the official website of the Boot Ride for all the info you need on when and where the rally is taking place and how you can participate.

The Boot Girls invite YOU to get YOUR official Boot Campaign boots on and coast down the Sunset Strip for the 2nd annual Boot Ride, with the stars from FX's Sons of Anarchy leading the way. We invite non-riders to get YOUR boots on too! Join us at The Happy Ending Bar & Restaurant to see the riders roll in, and rock out to a live performance by Blackberry Smoke during the Rally. Proceeds benefit our military through the Boot Campaign's partner charities.
Check out the first official trailer of Deadfall, starring Charlie along side Eric Bana, Olivia Wilde, Sissy Spacek and Kris Kristofferson in this crime thriller set to hit the big screen December 7th and OnDemand on November 7th.
Check out the brand new 2 minute trailer released by Apple Trailers today of 1,2,3…Frankie Go Boom. Also be sure to check out the HD trailer captures and brand new poster for the film in the gallery.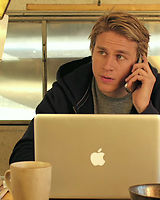 Gallery Link:
– Frankie Go Boom (2012) > Apple Trailer