Category: Press
Charlie is looking fierce and edgy on the latest issue of VMAN Magazine! In the issue Charlie talks in-depth about turning down 50 Shades of Grey in addition to his upcoming projects such as Guy Ritchie's King Arthur, Guillermo Del Toro's gothic thriller Crimson Peak and Lost City of Z which is currently being filmed. You can check out a snippet below and some preview scans of the issue in our gallery.
Make sure you pre-order your own issue over at VMagazineShop.com before it hits stands September 17th!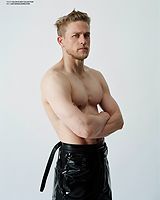 On turning down Fifty Shades of Grey: "Oh it was the worst professional experience of my life. It was the most emotionally destructive and difficult thing that I've ever had to deal with professionally. It was heartbreaking."

On telling Sam Taylor-Johnson that he was turning down the movie: "I called her and we both cried our eyes out on the phone for 20 minutes. I needed to tell her that this was not going to work. I was going to finish Sons, shoot the whole sequence where Tara was brutally murdered, fly to Vancouver the next day, have ten days of rehearsal, and then start shooting. Then I was going to have three days after that and I'd have to start shooting Crimson Peak and then I'd have two days to travel and go back into season seven of Sons. There was a lot of personal stuff going on in my life that left me on real emotional shaky ground and mentally weak. I just got myself so fucking overwhelmed and I was sort of having panic attacks about the whole thing. I just didn't know what to do."

On being okay with the Fifty Shades nudity: "The outside perception of that was that I got really cold feet and got scared of the explicit nature of the sexuality of the piece. When I was 18 I was getting f*cked in the ass, completely naked on national TV, y'know?"
You can read Kurt's entire interview over at HollywoodReporter.com
He's been quietly prepping the Sons spinoff, for which he's mum on details since it's still early in the development process. At press time, he was still looking to secure a writer to spearhead it. Sutter says he really wants to do more movies, too, though not simply as a screenwriter. "I can't write feature scripts for someone else to direct anymore," he says, a nod to the "at times painful" experience on Antoine Fuqua's Southpaw, which went through multiple writers' keyboards, though Sutter ultimately earned sole screenwriting credit in arbitration. If he has his way, he'll dust off one of his early scripts, Delivering Gen, a love story between a junkie and a hit man. Charlie Hunnam has read the script, and it's Sutter's dream for him to star. "He'd f—ing kill it," he says of his former Sons lead.
EW.COM — On Saturday, we ran a poll asking which Sons of Anarchy star you thought would like to appear on Kurt Sutter's latest FX show, The Bastard Executioner.
And … looks like you were right!
Sutter, who was also the mastermind behind SOA, tells EW exclusively that he's been chatting with none other than Charlie Hunnam (Jax) and Tommy Flanagan (Chibs) about making the trip to TBX set.
But there's a catch. Or two.
"Charlie really wants to come and do, like, a little arc but, he's sort of booked solid for the next three years, so I don't know if that'll happen," says Sutter, sounding disappointed. "But we still have Timothy V. Murphy and I'm sure we'll get some of our Irish dudes that we cast at some point on Sons. It's hard to schlep over American actors. It's been primarily British actors, other than all the people that are related to me that are in the show.
"But it's so funny. I was actually thinking, 'I wonder if we could have a medieval Venus Van Dam?'" continues Sutter. For the uninitiated, Sutter is referring to the transgender character on SOA played by the brilliant Goggins. "What did transgender look like in the 1300s?"
The Bastard Executioner premieres Sept. 15 at 10 p.m. ET on FX.
For his role in King Arthur, former Sons of Anarchy star Charlie Hunnam gets the chance to wield the legendary sword, Excalibur, while kicking ass and delivering a "harder edge" to the king's tale. And though it's not the first time the actor has handled a pretty epic piece of weaponry, the movie gave him an opportunity to show off a few unique tricks he'd picked up in the past.

During EW's cover shoot, the future King Arthur opened up about the Samurai sword he has at home, which his Sons of Anarchy costar Ryan Hurst coveted. So, when the series wrapped, the cast gifted Hurst with a Samurai sword of his own, but rather than put it on display, the blade was used for a very special purpose – trimming off Hurst's beard.

Source: ew.com
Check out the exclusive video of Charlie's cover shoot and interview with Entertainment Weekly where he gets candid about working with Guy Ritchie and gets clumsy with his sword.

Check out the extremely handsome cover issue for the July 31st issue of Entertainment Weekly of Charlie as they give us an exclusive first look at Charlie from Guy Ritchie's King Arthur which just wrapped filming this month. Who's excited?! 😀