Category: King Arthur
The live chat originally took place on February 21st. You can watch it below in case you missed it.

"From nothing comes a king," promises this new trailer for Guy Ritchie's King Arthur: Legend of the Sword, and the filmmaker's certainly found a new way into the Arthurian mythos. Starring Charlie Hunnam as the man with the Excalibur, King Arthur looks more action-packed and stylish than we're used to seeing in our ancient English folklore.
The clip, which is set to air during today's AFC/NFC broadcasts, opens with Hunnam's Arthur intoning, "I am here now because of you – you created me." Who the "you" is remains something of a mystery, which presumably will be answered when the film hits theaters May 12.
In addition to Hunnam, King Arthur stars Jude Law as his power-grabbing uncle, and Astrid Bergès-Frisbey, Djimon Hounsou, Aidan Gillen and Eric Bana. Ritchie directs from a screenplay by Joby Harold and Ritchie & Lionel Wigram, with a story by David Dobkin and Joby Harold. The film is produced by Akiva Goldsman, Joby Harold, Tory Tunnell, and Steve Clark-Hall, Ritchie and Lionel Wigram. David Dobkin and Bruce Berman are executive producers.
The film will be distributed in North America by Warner Bros. Pictures and in select territories by Village Roadshow Pictures.
Source: deadline.com
I've added high quality digital scans of Charlie from the latest issue of Entertainment Weekly magazine.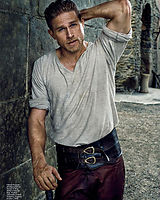 Charlie stands proud in the first official poster for King Arthur: Legend of the Sword which is due out this coming May.
Back in the days of yore — specifically July 2015 — EW brought you the first look at Charlie Hunnam as a gritty, wisecracking sovereign in King Arthur: Legend of the Sword. A year and a half later, fans are still waiting to see the former Sons of Anarchy star pull the sword from that stone.
EW caught up with director Guy Ritchie, who's putting the finishing touches on the special effects for the film (set for release on May 12), to talk about the delay and how he planned to make King Arthur a hero audiences in 2017 will care about.
We last spoke about a year and a half ago. Where are you in the process right now?
As of five minutes ago, it was the last visual effects meeting I had, so I am at the end of it, as of five minutes ago. It has gone on for some time.
The release date shifted three different times. What was the main reason for the date changing?
The date kept shifting, I think, simply because of competition. We could have wrapped up a year, but since we didn't have to wrap up a year ago, you keep this visual effects things going on so that you can get the best out of them. But it's such a crowded market out there, trying to find a weekend that you stand half a chance in is tough. That's the only reason.
Did the shift allow you to do anything other than take more time with the special effects?
I quite like taking some more time because I can see the trouble people find themselves in by forcing a visual effect, which really does need more time. We've had the luxury of sitting back. If we did not have that luxury, your visual effects aren't going to be there. We've had a year, haven't we? We've have a year to improve them, and today is the last visual effects meeting. It's a year's extra work.
This King Arthur started as three different projects, including one you were developing. What was different about your initial project?
This is the one, essentially, except in this one we've got 300-foot elephants. Though really, that's the only difference. It's the same story, but this one has more of an element of fantasy in it, which is consistent within the tone, but other than that, it's pretty much the same story.
Your big idea was to bring this guy down to the street level, right?
Yeah. I quite like John Boorman's Excalibur, and I think Boorman touched on things that I thought, "Oh, I'd like to have a go at that." He did a pretty good job at some aspects of it. It's a genre that's hard to tackle, and I wanted to tackle it.
What makes it a hard genre to crack?
All genres are hard to crack if you're familiar with a particular genre. It's easy for a filmmaker to stay within the genre he's familiar with. It's more challenging when you get outside of that. You have to use reference points that you're sympathetic to. What is a reference point to King Arthur that you're sympathetic to. The only thing I could think of is elements of Excalibur. There wasn't anything to copy, right? I have opinions about what they got right, what they didn't get right. So now you're going, "Well, you have to run that gauntlet. Are you funny? Are you unfunny? Are you funny and serious?" All of that takes a while to find your tone and your voice, and it's challenging, like in Sherlock Holmes. That was a genre I hadn't tackled before, so you have to find a voice within that. So it's challenging, and you doubt yourself. Then you're confident and you doubt yourself and you're confident again. For me, I'm trying to think of a film in the genre that I really like…. And I'm quite quiet on that. There isn't too many. There are elements within different films that I really like, but as a whole film, there's not one I can think of.
Do you think audience expectations have changed in the last 10 or 15 years?
Yes. Film, like everything else, is subject to fashion. If you watch how films were made 15 years ago and watch how they're being made now, the tonality is totally different. We've moved toward technically exponentially, so you can get away with visual effects from 15 years ago. But you have a broader tapestry, which means you can be more ambitious about the visual effects. In turn, it affects everything else. Once you change the tone and rhythm of one thing, it affects the tone and rhythm of everything else.
What did having Charlie Hunnam mean for that task, of updating Arthur?
To be fair to Charlie, Charlie won the role because he paid for his own flight. I wasn't even thinking about Charlie. He wanted to be screen tested, and he won it, as did Astrid [Berges-Frisby]. They won it through the good, old-fashioned route.
What did you need from the guy who was going to be your Arthur?
I need someone who was going to understand my vision and have a similar disposition. I needed to realize that we were going to be on the same page, so that anything I said was going to mean something to him. I needed him to trust me. Those things were conspicuous in Charlie.
You can read the full interview with Guy Ritchie over at EW.com
"He calls it fuck-dust. He liberally sprinkled fuck-dust on the film." 'Fuck-dust' is, according to Charlie Hunnam, the term Guy Ritchie assigns to achieving just the right dose of magical realism.
For a boy who grew up "carving sticks into swords", it was "a childhood dream come true to play King Arthur", (and for the seemingly unconventional choice of Guy Ritchie, no less) Hunnam affirmed to Empire in our new issue. "[Ritchie's] created a very rich, exciting world. I describe it to my friends as Lord Of The Rings meets Lock, Stock And Two Smoking Barrels. [It's] an unlikely marriage of two things, but it works." Maybe not such a leftfield choice of director after all.
As expected, the British director has a unique vision for the famous king. "We wanted to make an ignoble Arthur, at least at first," Hunnam says. "We wanted him to feel contemporary, selfish, somewhat rough around the edges."
The director also had a novel way of making sure Hunnam was the right Arthur for his film, pushing the actor so hard about being in shape that he snapped during the audition process. "I said, 'You know what? Fucking stop the camera. I'm starting to lose my temper. I know those other pricks you've got reading for this role (namely Henry Cavill and Michael Fassbender). If you bring them in right now, I'll fucking fight them both at once for the role, and we'll see what's up with the physicality.' Guy said, 'Fucking hell, alright – calm down, mate.'" Though we'd surely be foolish to bet against Supes and Magneto, it sounds like Hunnam is ready for the challenge.
For more on King Arthur: Legend Of The Sword, pick up the new issue of Empire on sale this Thursday. Or you can subscribe to Empire (including an instant digital subscription) right here. King Arthur is released in cinemas on 24 March 2017.
Source: EmpireOnline.com
Charlie took the stage solo during the Warner Bros. Presentation at the 2016 San Diego Comic-Con on July 23rd where he debuted the first official footage from the upcoming Guy Ritchie adaption King Arthur: The Legend Of The Sword which will land in theaters March 2017.