Category: King Arthur
Charlie doesn't appear until the 14 minute mark just so you know!

Check out the recently revealed poster for King Arthur: Legend Of The Sword exclusively for the San Diego Comic-Con. As you can see below the poster isn't too exciting, or eye catching. Rather a different spin on the usual style of posters we see first revealed, but regardless of whether or not the poster excites I'm still very much looking forward to the film itself which will debut in theaters March 24th, 2017.
Hey guys! I've added digital scans of Charlie featured in the latest issues of Entertainment Weekly Magazine including the special Comic-Con issue, which is all possible thanks to my good friend Jay of Frequency Fan. You can check them out in our gallery now.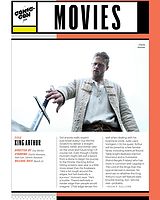 Check out the newly released first still shared by Entertainment Weekly of Charlie from the upcoming Guy Ritchie adaption King Arthur: Legend of the Sword which is due to hit theaters March 2017.