Category: Pacific Rim
I have added an additional 11 high quality stills of Charlie from Pacific Rim!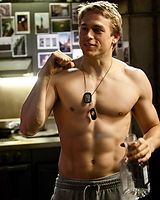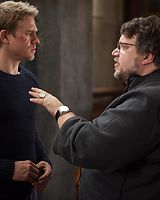 Gallery Link:
– Pacific Rim (2013) > Production Stills
The new trailer definitely shines a different light on the film, and I have to say I'm more intrigued!

Check out the newly released trailer for PACIFIC RIM featuring Charlie battling some wicked looking monsters in some Iron Man-esque looking robot gear!
PACIFIC RIM is scheduled to hit theaters July 12th 2013 in 3D!

When legions of monstrous creatures, known as Kaiju, started rising from the sea, a war began that would take millions of lives and consume humanity's resources for years on end. To combat the giant Kaiju, a special type of weapon was devised: massive robots, called Jaegers, which are controlled simultaneously by two pilots whose minds are locked in a neural bridge. But even the Jaegers are proving nearly defenseless in the face of the relentless Kaiju. On the verge of defeat, the forces defending mankind have no choice but to turn to two unlikely heroes – a washed up former pilot (Charlie Hunnam) and an untested trainee (Rinko Kikuchi) – who are teamed to drive a legendary but seemingly obsolete Jaeger from the past. Together, they stand as mankind's last hope against the mounting apocalypse.
Speaking with Screen Rant at San Diego Comic-Con last weekend, actor Charlie Hunnam (Sons Of Anarchy) talked about Pacific Rim, the upcoming science fiction epic directed by Guillermo del Toro. In the film, Hunnam's character, Raleigh Antrobus, and Rinko Kikuchi's character, Mako Mori, "use a "neural bridge" to link their minds in order to co-pilot an old model robot that could turn out to be humanity's greatest hope." Hunnam describes the basic story of the film as a classic love story, but with a sci-fi twist.
"Well, there's this whole imminent apocalypse that really distracts from a lot of the psychological stuff going on between them, but it's really more of a process of both of us opening up our hearts again enough to be able to trust somebody; it's a love story without a love story. It's about all of the necessary elements of love without arriving at love itself: I need to trust [Mako] and respect her and open up my mind to her.

"It's so fascinating, the whole caveat of how we operate this machine – which is through a neurological bridge – we're neurologically connected. So everything in my head is available to [Mako] – and vice versa. If you imagine that – I mean, we're all very careful about how we present ourselves and what we say, and how much of ourselves we let out. And to just allow someone into your brain, to give them complete access to every thought, and memory, and f*#cked up thing you ever did – and every great thing you ever did – its really a big proposition. And for two very damaged people who have decided they're going to keep it all inside because they're terrible human beings who have made so many mistakes – to go through a process of opening up enough to allow someone access to your head – it's really the heart of this film."