Category: Projects
I've added 201 HD captures from this week's newest episode of 'Sons of Anarchy' into the gallery.

Gallery Link:
– Season 4 > Screen Captures > 4×08 – Family Recipe
I've added 1 high quality still of Charlie and the lovely Katey Sagal from tomorrow night's new episode.

Gallery Link:
– Season 4 > Episodic Stills
I've added 183 HD captures from this week's newest episode of 'Sons of Anarchy' into the gallery.

Gallery Link:
– Season 4 > Screen Captures > 4×07 – Fruit for the Crows
Check out what Ausiello had to say about Sons of Anarchy in the latest Ask Ausiello column.
Question: I don't normally do this. I faithfully read your column each week. I don't complain because "you never give info on my show!" I get that there are a lot of shows on TV and think you do a pretty good job keeping the masses happy. All of these compliments are real and not because I'm desperate, LOL. For the love of Charming, please give out some scoop on Sons of Anarchy. I don't care what it is as long as it is good. There is, literally, nothing out there. I could be creative and try and imagine what is going to happen based on the titles of the upcoming episodes but that would just make me crazy. This drought is worse than the pre-Internet days. Please, give up some scoop! —Becky
Ausiello: Really? You think I do a pretty good job? Ouch. If that's what you call a compliment I'd hate to see what you consider a slam. Not that you deserve it, but here's an SOA scoop that should quiet the crazy lurking inside you: A major SAMCRO death looms, and it may or may not be connected to the final scene of this week's episode. Also, after you're done with next week's episode, you'll never look at a bowl of chili the same way again. This I promise you.

Question: This season of Sons of Anarchy is so intense. Any scoop on what's to come? – Kimberly
Ausiello: Despite everyone's best efforts to keep things hush-hush, word quickly spreads outside SAMCRO about the threat made on Tara's life. It all leads to a rather tense exchange between the Tara and Rockmond Dunbar's deputy sheriff. In related news, Tara better not die. Just putting that out there.
LOS ANGELES, October 17, 2011 – FX has ordered a 13 episode fifth season of its critically acclaimed hit drama Sons of Anarchy, from Fox 21 and FX Productions, announced John Landgraf, President and General Manager, FX Networks.
Starring Charlie Hunnam, Ron Perlman and Golden Globe® Award winner Katey Sagal, Sons of Anarchy is having its best season yet from a ratings standpoint. It's currently the #1 scripted drama series in all of basic cable, and is the highest-rated series ever on FX. On a first-run basis, season four is averaging 5.8 million Total Viewers and 3.9 million Adults 18-49, increases of +30% and +26%, respectively, vs. season three. On a multi-telecast weekly basis, season four is averaging 9 million Total Viewers and 6 million Adults 18-49.
The series has shown remarkable consistency week-to-week. The premiere episode of season four (9/6/11) was the most-watched program in FX history, with 6.5 million Total Viewers. Last week's episode (episode 6, 10/11/11) was the highest-rated episode in the past four weeks (Live + Same Day).
"Everyone at FX is very grateful to Kurt Sutter, his many writing, directing and producing collaborators and his masterful cast for making such a compelling and beautifully crafted show," said Landgraf. "It is no small challenge to bring the themes of a great, ancient play like Hamlet into a wholly original television setting and to tell this complex story in a way that is both riveting and accessible to a broad audience. The fans know how beautifully SOA meets this challenge, and we thank them for their loyal and passionate viewership."
Seven all-new episodes remain in SOA's current fourth season airing Tuesdays at 10pm ET/PT. In the next episode of Sons of Anarchy ("Fruit for the Crows," October 18, 10PM ET/PT), SAMCRO deals with the fallout from a death threat made against Tara.
I've added 3 high quality stills from this week's upcoming episode titled 'Fruit for the Crows' into the gallery.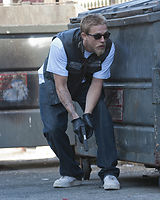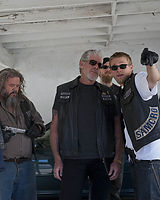 Gallery Link:
– Sons of Anarchy (2008-??) > Season 4 > Episodic Stills
Good news for Guillermo del Toro fans! His next project, Pacific Rim will hit theaters two months earlier than originally announced. His first directing project since 2008's Hellboy II, the film will arrive in theaters on May 10, 2013.
The film will arrive from a science fiction treatment by Travis Beacham, which sees a future Earth defending itself from attacking creatures.
"We started developing PAC RIM a while ago with the mad passion and enthusiasm of a project unwatched and unchecked by politics or comparisons," said del Toro earlier this year,"We designed and shepherded the movie we want to make. We start shooting in September and we hit the ground running because we are so in sync. My partnership with Legendary represents, both in scale and creative demands, a huge step forward for me."
The cast is set to include Charlie Hunnam, Idris Elba, Charlie Day, Rinko Kikuchi, Max Martini, Robert Kazinsky, Clifton Collins Jr. and Diego Klattenhoff.