Mr. Porter: Mr Charlie Hunnam's Life After Motorbikes
Saturday morning at Claridge's and it's kedgeree o'clock. Mr Charlie Hunnam ambles in for our breakfast appointment in a private room at the back of the restaurant. For an actor who played a pumped – and frequently topless – biker for seven seasons of US TV drama Sons Of Anarchy, and who this year is filling the big screen as a mythic British king, a fabled early 20th-century explorer and a legendary convict escapee, the 36-year-old wears his charisma lightly. With his choppy hair, blonde stubble and elbow-patched, grey cotton shirt, Mr Hunnam looks more resting rocker than leading man. Fifty shades of grunge, anyone?
The Newcastle-born, LA-based actor studies the menu in the same quiet, thoughtful manner that, it transpires, he considers everything. He'll have the vegetarian breakfast, please, with granary toast and a side of avocado. "I'm not a veggie," clarifies Mr Hunnam in a soft Geordie accent still evident after 18 years in LA. "But I never see any point in meat at breakfast. I like a bit of smoked salmon, maybe a kipper. But I don't do any sausages or bacon."
I previously encountered Mr Hunnam in 2010, in his then-home on West Hollywood's hipster thoroughfare, Melrose Avenue. He was about to begin filming the third series of Sons Of Anarchy. His was the hero role, that of Jax Teller, prodigal son of the founder of an outlaw Californian motorcycle chapter. Naturally lean, he bemoaned the gym time required to buff himself up to play the dynamic biker prince, and the concomitant loading up on white-meat protein. He was a long way from his breakthrough role, playing a callow, northern teenager in Mr Russell T Davies' groundbreaking 1999 Manchester-set gay drama Queer As Folk.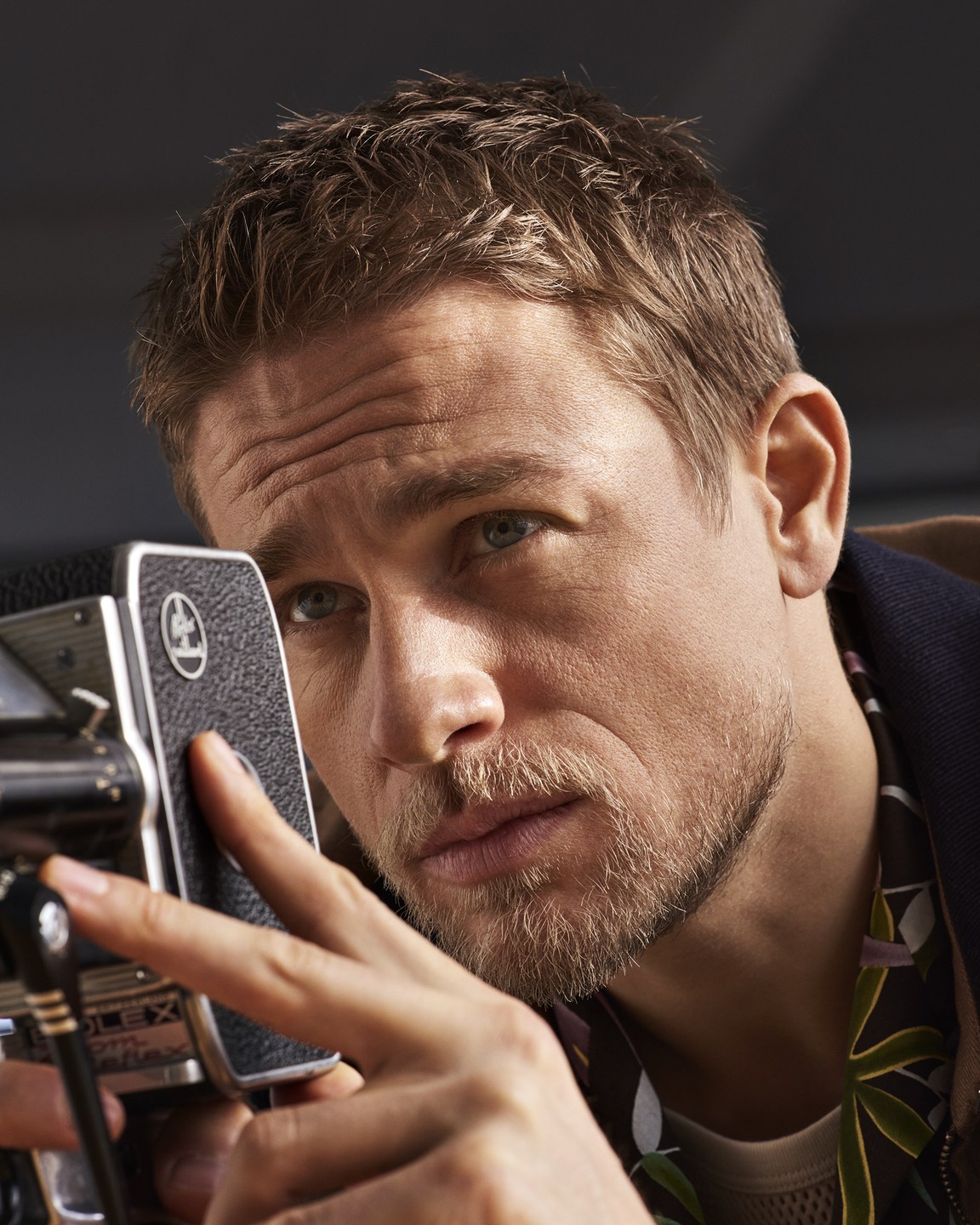 "Now I realise that there are protein powders, vegan protein powders and all that shit," Mr Hunnam says with a small smile of relief. "[Things] that feel a little kinder to the system rather than eating enormous amounts of solid protein every day."
Even though he wrapped on the final 80-hours-per-week filming schedule of Sons Of Anarchy in 2014, fitness still matters to Mr Hunnam. But it's the right kind of fitness.
"I have come to really like an active lifestyle," says Mr Hunnam. "It was a bit of a challenge to begin with to find a routine that felt good. But equal to the physical rewards of feeling good and healthy and energised, just the mental clarity and emotional stability I find I get from working out have become pretty essential to my day-to-day life."
A keen hiker, a legacy perhaps of a childhood spent in the Lake District, 18 months ago Mr Hunnam moved to a new home at the bottom of Runyon Canyon. "That's lovely to have on the doorstep. I go up there most mornings about 6.00am, watch the sunrise. Sometimes double it up and go watch the sunset as well. And on my ambitious days, I do give it a bit of a run, but it's usually just a fast walk."
His neighbours are Ms Sam and Mr Aaron Taylor-Johnson. The first knock on the door to borrow a cup of sugar could have been problematic because, famously, at the 11th hour, Mr Hunnam dropped out of Ms Taylor-Johnson's Fifty Shades Of Grey film. In October 2013, it was announced that he was to play fabulously wealthy kink-merchant Christian Grey in the film adaptation of the gazillion-selling novel. A little over a month later, he quit. Northern Irish actor Mr Jamie Dornan gamely accepted the keys to the sex dungeon and disaster was averted. But it was a bruising time for all concerned.
Letting down Ms Taylor-Johnson, he admits, "was primarily the reason it was very, very difficult. And thankfully she is such a wonderful, kind, empathetic person, she understood. And we've actually remained friends."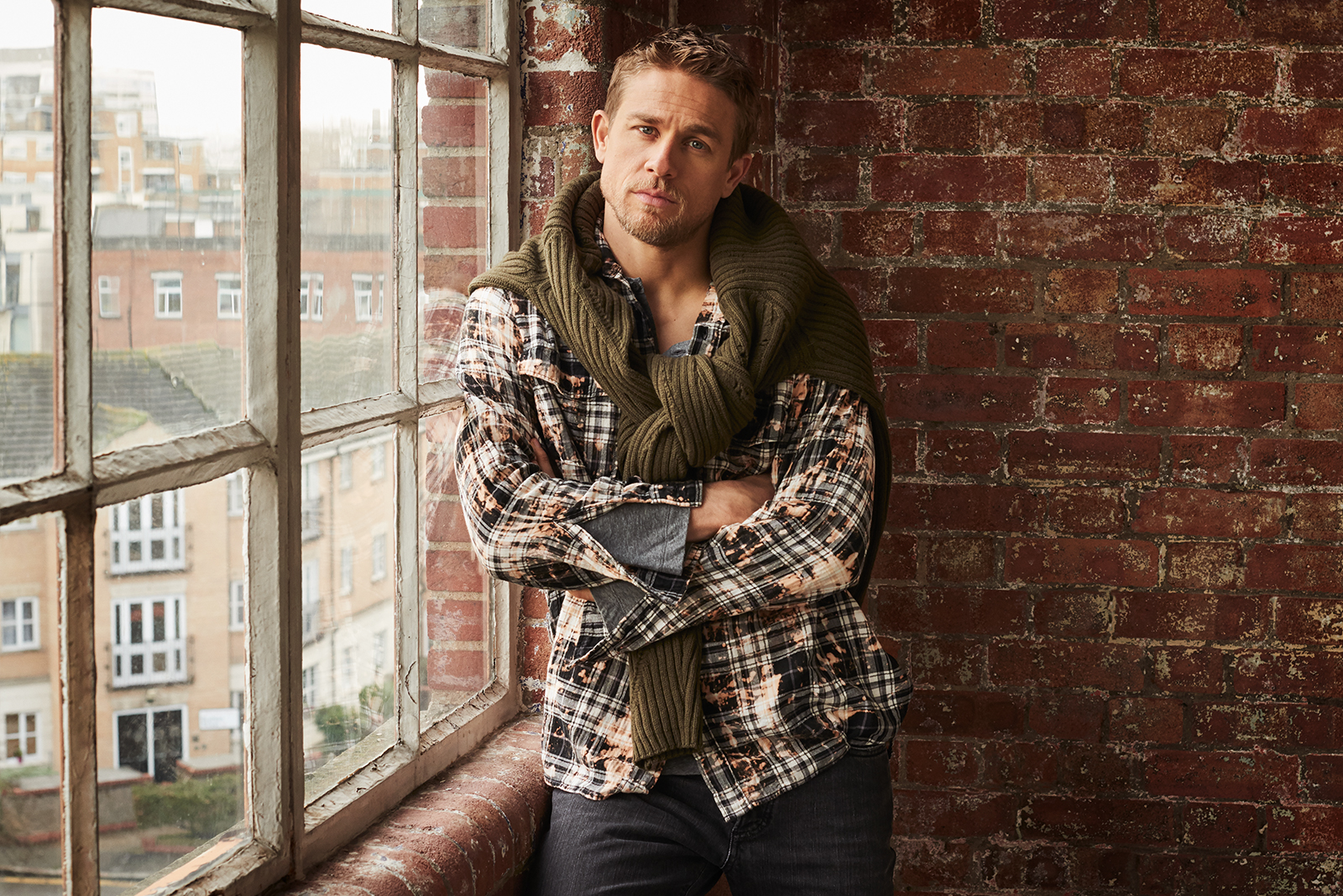 "I see them pretty regularly," he says of the British directing/acting powerhouse couple, one half of whom appeared in The Journal last month. He notes with neighbourly, Anglo pride Mr Taylor-Johnson's Golden Globes win earlier this year, for his role in Mr Tom Ford's Nocturnal Animals. "Yeah, he's doing great. I was so happy for him. I thought he was terrific in that film."
Mr Hunnam does not regret bailing on a series that would have been the making of him, certainly in terms of box office and bank account. "It was a difficult decision, but I think it was the right decision," he says. "But I really struggled. I mean, I'm incredibly indecisive when it comes to those big, big work decisions – and really, all decisions. I feel like we're just fucking inundated with having to make decisions in our lives, and it's somewhat relentless."
His reason was simple: with only five days between the end of Sons Of Anarchy and the beginning of production on Ms Taylor-Johnson's film, he didn't think he'd have time to switch gears and prepare mentally and emotionally. Even if his body was boudoir-ready.
Does he miss the UK, whether the small-town north of his childhood or the hurly burly of Manchester and London where his acting career began? "Ah, I miss my family a lot," he says. His mother and father split when he was a child. Later today, after the MR PORTER shoot, he's meeting his mother for dinner in Tunbridge Wells. His father, "a real serious guy from Newcastle" who was involved in nightclub security and the scrap metal trade, died four years ago.
Aside from three demanding film roles – two of which have allowed him to spend chunks of time back in the UK, much to his satisfaction – Mr Hunnam has developed three scripts, two real-life stories he's producing with studio partners and one that he hopes to write himself.
Most recently, he was working in Serbia and Montenegro. The Balkan nations were standing in for French Guiana in a new adaption of Papillon. Mr Hunnam plays Henri Charrière, safecracker, convicted murderer (although he maintained his innocence) and author of the autobiographical account of his years incarcerated in the South American penal colony. (In the 1973 film, Mr Steve McQueen took that role.) Mr Rami Malek, star of cult TV series Mr Robot, is Mr Hunnam's counterpart (originally played by Mr Dustin Hoffman).
Mr Hunnam grew up "with an enormous amount of reverence for that film. So the idea of redoing it was pretty terrifying. I wasn't 100 per cent convinced of the value in it," he admits. Yet he and the Danish director, award-winning Mr Michael Noer, agreed that this was not a remake, but "an independent adaptation of the source material. And it's gritty and nasty and visceral. And I feel confident that we made a really good film. But it's a dangerous game, putting yourself up for comparison with Steve McQueen and Dustin Hoffman."
To play the prisoner, doggedly bent on escaping his hellish incarceration, "I just starved myself. I was like a skeleton by the time I finished. Unfortunately, I smoke a lot of cigarettes as the character, so I just ended up chain-smoking cigarettes and drinking black coffee all day, every day, which is not the healthiest way to lose weight. But it's certainly a way," he smiles.
This – sweating it out in an actual dungeon rather than, say, gadding around in a sex dungeon – is the kind of thing that drives Mr Hunnam. That intensity is there, too, in the first of those films, which hit cinemas last month in the UK and this week in the US. In The Lost City Of Z, which was partly shot in Belfast, he plays British soldier-turned-adventurer Lieutenant Colonel Percy Fawcett. He was a real-life hero of the Empire who repeatedly left his family to embark on Royal Geographical Society expeditions. Lieutenant Colonel Fawcett finally disappeared in the Amazonian jungle while trying to discover the civilisation of the film's title. To play the part, Mr Hunnam denied himself both food – his weight fell again to about 10 stone (65kg) – and social contact.
"I decided to create a situation where I felt real loneliness, and the weight of that sacrifice emotionally," he says. "So I cut everybody out of my life for the entirety of the four-month shoot."
I find myself almost choking on my kipper. There's Method, and there's madness. Mr Hunnam shrugs and smiles. "Switched my phone off. Had no email. Didn't go on the internet once. Didn't watch a movie. Didn't make a phone call for four months." Mr Hunnam somehow managed to hang on to his long-term girlfriend, the jewellery designer Ms Morgana McNelis, during this episode.
Mr Hunnam will also soon be seen as the lead in King Arthur: Legend Of The Sword. Mr Guy Ritchie's typically energetic retelling of the sword-in-the-stone yarn also stars Mr Jude Law. It was a long shoot, and a challenging one, especially for Mr Hunnam, who had to embrace the essential "Guy-ness" of his shoot-from-the-hip director. "I tend to have a sort of tortured, laboured approach to work," says Mr Hunnam. "Guy said, 'Fuck all that. That's not the kind of work I do.'"
Alongside Mr Hunnam, the film is notable for featuring Mr Ritchie's fellow flat-cap enthusiast, Mr David Beckham. He plays a scar-faced henchman of Mr Law's evil regent. "David Beckham asked me my opinion a few times on different bits and bobs," says Mr Hunnam. "I don't know if it was any help or not, but I was really blown away. It became very clear why and how Beckham's become the phenomenon that he has. Because he showed up determined to do a good job. He'd worked with a dialect coach, and maybe an acting coach. I sort of anticipated, well, he's a superstar. This is not his primary or even his secondary focus; this is just a bit of a giggle for him. But that work ethic just shone through.
"And that, combined with him just being humble and kind and accessible, was very endearing. I'm not a football man, so upfront, I didn't really have a strong feeling one or way or another. But by the time he left, I had a little bit of a crush on him. He was pretty fucking cool."
When the publicity tour for the raft of films he's got coming out this year is over, Mr Hunnam will go to Thailand with Ms McNelis. It will be his first holiday in seven or eight years. "But I have so much anxiety about the prospect of not working for two weeks," he says, laughing at himself.
Has he ever thought about therapy?
"No," he says, ruminating on avocado and toast. "I read a lot of books about the human condition, and about where we are, trying to understand some of the things that I deal with. But I've never had therapy. Again, it's really been a matter of finding the time to sit down and dedicate time to it. I do think it would be really useful. I'd say that the majority of people I know who seem to be cracking on and know themselves very well and have very well-balanced approaches to life seem to have done a lot of work in therapy."
Source: MrPorter.com