Category: Papillon
BostonHerald.com — "Papillon" — French for "butterfly" — is adapted from the memoirs of Devil's Island prisoner turned escapee Henri Charriere and stars Charlie Hunnam ("Sons of Anarchy") and Rami Malek ("Mr. Robot" and up next as Queen's Freddie Mercury in "Bohemian Rhapsody").
The 1973 "Papillon" had Steve McQueen, Golden Globe nominated as Charriere, and Dustin Hoffman as Louis Dega, his meek, intellectual prison pal.
Hunnam, 38, called the physically demanding "Papillon" "a lot of fun" and praised his "great" Danish director Michael Noer.
He also acknowledged contending with a film version that was critically praised and beloved.
"Obviously, we're going to have to endure the inevitable, relentless comparison," he said.
"But through the creative process, we never really felt beholden or as though we were making a remake. We always approached it as though it was an independent adaptation."
Was he worried about stepping into Steve McQueen's formidable shoes?
"No, there wasn't that at all," he began before correcting himself.
"That's not true. Initially, I thought that it was maybe a lofty aspiration to be remaking such a beloved classic film with such an incredibly talented guy in the lead role. But ultimately it's a true story. Henri Charriere was a real man. It's a great amount of source material — but the more I started looking into that world, the greater the distance from that original film.
"Then through conversations with Michael Noer, who has a very different dramatic sensibility, it just started to feel as though the two films weren't going to be connected at all.
"Other than sharing the source material — and the same name."
ETOnline.com — Charlie Hunnam underwent a pretty dramatic transformation for his latest film.
ET caught up with the 38-year-old actor and his co-star, Rami Malek, at the Los Angeles premiere of Papillon on Sunday, where they discussed Hunnam's shocking weight loss in order to play a prisoner detained on a remote island who is attempting to escape. The transformation was made all the more mind-blowing because Hunnam had just dropped a significant amount of weight for a previous movie role.
"I did this two times in a row. I did a film called The Lost City of Zedd and I lost 40 pounds for that exactly. I went from 185 to 145 exactly," Hunnam told ET's Lauren Zima. "I was down to 145 again for this [role], but I think I probably started at 180 so maybe [I lost] like 35 pounds."
While the dedication to his craft is certainly appreciated, Malek confessed that he was actually a bit worried about his co-star while they were acting out such "brutal circumstances."
"Yeah, how can I not be? I mean it's a very intense experience as it is. Filmmaking, and this one especially, it's not the glitz and glamour of Hollywood. We weren't out there going back to our trailers every two seconds," Malek said. "It's just out there sitting in the mud and hanging out and watching Charlie starve. So, I was a bit concerned, but he's alright."
Known for always being in shape, Hunnam often finds himself shirtless in his roles, but that's not something he wants to continue in future projects.
"It's certainly not intentional and not something that I want to keep doing, but it seems to be a running theme," the former Sons of Anarchy star admitted. "I don't know what that's about."
Hunnam hasn't just cut weight for roles, he's worked hard to put on weight too! Last year, he packed on 20 pounds of muscle to play King Arthur in King Arthur: Legend of the Sword.
I've added high quality production stills of Charlie as Henri "Papillon" Charrière in addition to the films promotional artwork and official trailer screen captures into the gallery. In case you haven't seen it, check out the official trailer below.
Papillon hits theaters on August 24th
Based on the international best-selling autobiographic books "Papillon" and "Banco", PAPILLON follows the epic story of Henri "Papillon" Charrière (Charlie Hunnam), a safecracker from the Parisian underworld who is framed for murder and condemned to life in the notorious penal colony on Devil's Island. Determined to regain his freedom, Papillon forms an unlikely alliance with quirky convicted counterfeiter Louis Dega (Rami Malek), who in exchange for protection, agrees to finance Papillon's escape, ultimately resulting in a bond of lasting friendship.
Charlie and the cast of Papillon posed for portraits while attending the 2017 Toronto International Film Festival on September 7th & 8th. You can view the new portraits in our gallery now.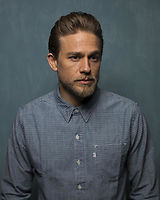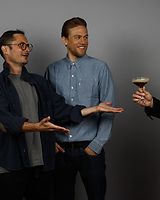 Update: Added even more new portraits to the gallery!