Charlie joined his Rebel Moon castmates as they began their press tour on December 1st at the popular Comic Con Experience 2023 event in São Paulo, Brazil. They along with creator Zack Snyder discussed the film with press and content creators while later surprising the attendees with the first exclusive screening of Rebel Moon – Part One: A Child of Fire.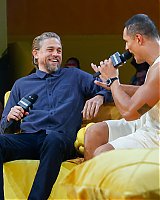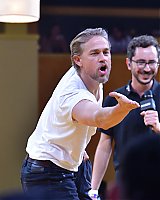 Most notably was that during a sit down interview that took place at the event Charlie could been seen taking off the soccer jersey he was wearing, kissing it and throwing it to a fan in the crowd who was in tears as Charlie also blew her a kiss before leaving the stage.
You can find high quality photos from the event in the gallery. And be sure to follow Charlie Hunnam Fan on X/Twitter for even more photos and coverage during the Rebel Moon press tour.