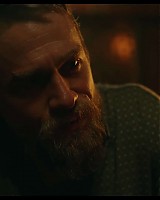 Deadline.com — The gloves are off down in Jungleland.

Here is the first trailer for the film starring Charlie Hunnam and Jack O'Connell as two brothers struggling to stay relevant in the underground world of bare-knuckle boxing. Have a look above.

When Stan (Hunnam) fails to pay back a dangerous crime boss (Jonathon Majors), he and brother Lion (O'Connell) are they're forced to deliver an unexpected traveler (Jessica Barden) as they journey across the country for a high-stakes fighting tournament. While Stan manages and trains Lion for the fight of his life, a series of events threatens to tear the brothers apart, but their love for each other and belief in a better life keep them going. John Cullum also stars.

Director Max Winkler called his 10-year passion project "a movie about toxic masculinity and brotherhood" and has cited inspiration from the 1973 Jack Nicholson film The Last Detail. He also co-wrote the script with Theodore Bressman and David Branson Smith. Romulus Entertainment and Scott Free are the key production companies that helped bring the film to fruition, and Ridley Scott has an executive producer credit on it. Brad Feinstein, Jules Daly, Kevin J. Walsh and Ryan Stowell are the producers.

Jungleland premiered at Toronto last year, and it will hit premium VOD on November 10 via Paramount Pictures.
In September it was reported by Deadline that Paramount Pictures had acquired the home entertainment and TV licensing rights Jungleland.