Category: Interviews
Charlie Hunnam and Garrett Hedlund open up about their new Netflix action-thriller "Triple Frontier", about a South American heist that also stars Ben Affleck.
Inquirer.netI — t was interesting to watch Charlie Hunnam and Garrett Hedlund, buddies in real life and playing brothers in the movie "Triple Frontier," seated together in our recent interview at the Four Seasons Hotel New York Downtown.
Paired together, the handsome actors often stroked their beards, clasped their hands or leaned forward at the same time.
"He was doing that to me yesterday," Charlie, 38, said about Garrett, 34, playfully imitating his moves. Laughing, Charlie admitted, "It f***ed me up."
But on that afternoon, the two seemed to be spontaneously in sync with their gestures.
Not surprisingly, Charlie (as William "Ironhead" Miller) and Garrett (Ben Miller) play brothers in director JC Chandor's testosterone-heavy action-adventure for Netflix, "Triple Frontier."
Add Ben Affleck (Tom "Redfly" Davis), Oscar Isaac (Santiago "Pope" Garcia) and Pedro Pascal (Francisco "Catfish" Morales) and you have five former US Special Forces operatives who reunite to stage a heist—rob a drug lord in South America.
For a change, these dudes go on a dangerous mission for themselves, not for their country. Of course, twists and surprises test their skills and loyalties to each other.
Asked if they have been mistaken for each other, the English Charlie answered, "Funny enough, no. But when we spend a lot of time together, people would always ask us if we were brothers. But I've never gotten like, 'Are you that guy from 'Friday Night Lights'?"
"No," Garrett confirmed. With a smile, the American actor added, "And I just like that Charlie's response is always, 'Yes, we are brothers. Which one do you think is younger (laughs)?'"
"You know, these roles weren't originally written as brothers," Charlie stressed. Garrett finished Charlie's answer: "Pope (Oscar Isaac) and Redfly (Ben Affleck) were meant to be brothers."
Charlie shared, "JC (Chandor) was talking to both of us. But he felt that we looked so similar and have a similar sensibility that it would be distracting to have us onscreen together. Then, he had this eureka moment and that he could change the script, write us as brothers and hire us both."
On their roles, Garrett described his as: "I play Ben Miller, the younger brother to Charlie's character. We're all with Special Forces with every ability that you're taught within the Special Forces. We are able to accomplish any task that the military asks. And we're brought together for this mission, which seems impossible." Continue reading
Forbes.com — "If you're feeding people McDonald's every day, all they're going to want to eat is McDonald's," muses 38-year-old actor Charlie Hunnam in an attempt to illustrate the environment that gave rise to streaming services like Netflix. "The studios have created the situations that they're now claiming to be victims of," he goes on. "They created this expectation of ground spectacle when you go to see a film in the theater. [But] people are hungry for a wide variety of programming and, if you're only going to deliver this to us in the theater experience, then we'll look elsewhere to get everything else that we're craving."
Hopefully, what the public is craving includes Triple Frontier, a new Netflix film about a team of former Special Forces operatives that get back into the game to steal a drug kingpin's fortune in South America. Hunnam is one fifth of that team, alongside Ben Affleck, Oscar Isaac, Pedro Pascal and Garrett Hedlund, who joins Hunnam in a downtown Manhattan hotel room a few days before the movie's premiere to discuss their respective roles and more.
The two actors, who play brothers in the movie, go way back. When first tapped to star in the film, "there was just a little bit of an issue about which one of us [director] J.C. Chandor would hire because he felt that we were too similar in sensibility and appearance because the characters weren't written as brothers," recalls Hunnam. "I got a call saying [Chandor] was […] considering making these two characters brothers and would I be willing to play with Charlie?," remembers Hedlund. "I said, do you know that Charlie and I have known each other for 15 years and have been super close friends?"
That camaraderie deepened while shooting the film, which required the cast to train with Special Forces. "It was great," reminisces 34-year-old Hedlund. "It was a great thing to go through together, especially when you're doing a thing about five guys that really deals with a lot of brotherhood and they had all fought and trained together and been familiar with each other and had a very strong bond." Continue reading
ETOnline.com — Fans may have been pleased with their show-stopping shirtless beach pics, but the hunks of Triple Frontier weren't so thrilled when they saw their buff bods making headlines!
ET's Nischelle Turner thanked Ben Affleck and his Triple Frontier co-stars for the hot pics while catching up with the actors ahead of the action-thriller's premiere on Wednesday.
"You're welcome. No-one was happier than us," Affleck responded as the rest of the guys burst into laughter.
"They told us that was a private beach!" Garrett Hedlund explained of the snaps, which were taken in Hawaii in March 2018, while the actors were in town to shoot the film.
After seeing the images go public, it seems some of the stars were quietly cringing.
"I mean, they were humiliating," Charlie Hunnam said. "We're in our Speedos, like wrestling!"
"Marginally more humiliating for you, but I still got my share," Hunnam added after Hedlund pointed out he was on the bottom of the wrestling scenario.
The fun photos captured the close bond formed by the lads while shooting the Netflix film, which follows a group of former special op soldiers who set to rob a South American drug cartel of millions of dollars.
Charlie and his Triple Frontier co-star Ben Affleck stopped by The TODAY Show to promote their new Netflix film on March 4th. You can check out stills, screen captures and the video interview below in case you missed it!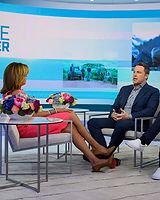 Charlie and his co-star Rami Malek were interviewed by Last Call with Carson Daly while doing press for their new film Papillon which aired on September 5th. In case you missed it you can check out high quality screen captures and video below: